AIRGrav to Antarctica with NASA - for 6th Year
October 2014 - SGL is delighted to once again be involved in NASA's IceBridge project. 2014 marks the sixth year that SGL has supplied its industry leading AIRGrav airborne gravimeter to assist with NASA's polar research. This campaign will be flown from mid-October to the end of November by NASA's DC-8 based in Punta Arenas, Chile. According to NASA, the focus for the 2014 season involves ensuring that the flights flown allow for comprehensive monitoring of differences in height and depth of the ice sheet over time. Flights that have not been accomplished recently will have a higher priority, thus ensuring that all sorties are flown on a rotating basis.
Antarctic 2014 - Planned Science Flights
NASA (nasa.gov), October 2014
Prioritized 2014 DC-8 Antarctic Flights
NASA (nasa.gov), October 2014
SGL Departs Antarctica, AIRGrav Performs Flawlessly
December 2013 - SGL has departed Antarctica with the 2013 IceBridge campaign now successfully complete. As in previous years, Sander Geophysics provided an AIRGrav system and technical personnel to acquire gravity data for the multi-instrument IceBridge project. SGL's AIRGrav system once again performed flawlessly during this year's campaign in the world's most remote and challenging environment, with 100% availability during all flights. According to NASA, one high priority flight of this year's project involved collecting data over an area of thick ice in Eastern Antarctica between Dome C one of the highest points of Antarctic ice sheet and the Russian Antarctic base of Vostok. With a late start due to the US government shutdown, Antarctic data collection ended on November 28 when NASA's P-3 departed McMurdo one day early to escape bad weather. The P-3 left for Christchurch, New Zealand following the path of European Space Agency's CryoSat-2 satellite, collecting four hours of scientific data during the flight.
One More Mission and Off the Ice
NASA (www.nasa.gov), December 2, 2013
November 2013
SGL is back in Antarctica! SGL has once again supplied an AIRGrav system and technical staff to support NASA´s IceBridge mission in Antarctica. The 2013 endeavour is the first time that NASA´s P-3 aircraft will be based at the McMurdo Station, Antarctica: previously the aircraft has operated out of Punta Arenas, Chile. The McMurdo base allows data to be gathered in areas unreachable from Chile, says Michael Studinger, IceBridge project scientist. One priority is to fly over the Ross Sea where there are no airborne ice thickness measurements. SGL's AIRGrav system is the highest resolution airborne gravity system available, and has been used on numerous similar missions since 2008 in Antarctica, Chile and Greenland.
NASA Begins First Antarctic Airborne Campaign from McMurdo Station
NASA (www.nasa.gov), November 16, 2013
Facebook — NASA Operation IceBridge
NASA (www.nasa.gov), November 2013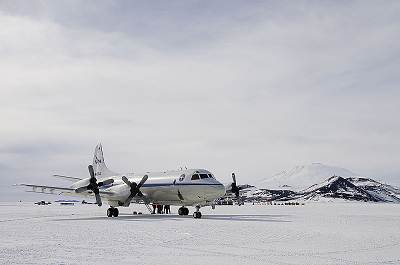 February 2013
IceBridge's new website for the science community has been launched. According to NASA, Operation IceBridge's science goals include using glacier ice thickness, basal topography and other geophysical processes to increase the understanding of ice sheet flow. Another focus involves furthering technology to improve surface elevation measurements, thus enhancing sea ice thickness data.
Sander Geophysics' gravimeter (AIRGrav) is one of the sophisticated instruments employed on the IceBridge project. NASA uses the gravity data from AIRGrav to distinguish between water (less dense) and rock (more dense) below the ice, which is crucial for studying the calving and melting of glaciers.
NASA (www.nasa.gov), February 2013
October 2012
Sander Geophysics is pleased to once again to be working on NASA's Operation IceBridge project collecting data with SGL's AIRGrav system over Antarctica. Survey flying began on October 15 and will continue through mid-November. According to NASA, this season IceBridge will survey previously unmeasured areas of land and sea ice and gather further data on rapidly changing areas like the Pine Island Glacier.
NASA (www.nasa.gov), October-November, 2012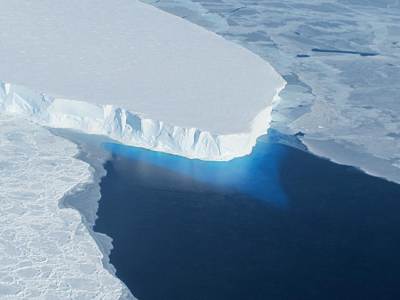 September 2012
As Sander Geophysics prepares for another season of surveying in Antarctica with Columbia University and NASA, some questions are answered. Ken Jezek and Michael Studinger of Operation IceBridge discuss the challenges of providing accurate polar region data and the importance of such information to prepare for climate change. The state-of-the-art technology used for the project is also revealed, including SGL's AIRGrav system which helps scientists understand what is occurring beneath the ice shelves.
Ken Jezek, Co-Team Lead for Ice Sheets, and Michael Studinger, Project Scientist for OIB, NASA Operation IceBridge
ResearchMediaLtd (www.research-europe.com), August 30, 2012
November 2011
Gravity data acquired with SGL's AIRGrav system during the Operation IceBridge project have provided scientists with a new bathymetric model revealing important characteristics about the ice flow around Thwaites Glacier. While the glacier is pinned to the east on a prominent ridge, it lost contact to the west approximately 55 to 150 years ago, scientists have determined, based on current thinning. The gravity-derived bathymetric data have revealed an undulating offshore ridge that has been a hindrance to floating ice and the circulation of sea water, thus providing more stability to the Thwaites Glacier. Insight into the future retreat of the glacier has also been revealed by AIRGrav data.
Progressive unpinning of Thwaites Glacier from newly identified offshore ridge: constraints from aerogravity
Geophysical Research Letters, Vol. 38, L20503, October 2011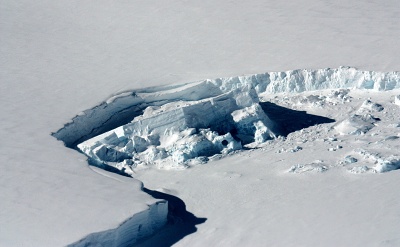 November 2011
The Gamburtsev Subglacial Mountains buried under the East Antarctic Ice Sheet have been a subject of great interest for researchers, who have had difficulty explaining their high elevation and youthful Alpine topography in spite of their considerable age. Data collected during the International Polar Year project of 1989-1990 to study Antarctica's Gamburtsev Province (AGAP) have revealed in-depth information about the crustal architecture and uplift mechanisms of these mountains, as reported in the journal Nature (see link below). Sander Geophysics participated in the AGAP project that led to solving this mystery, providing an AIRGrav system and personnel to acquire and process airborne gravity data under contract to Lamont-Doherty Earth Observatory (see 2009 news items below).
East Antarctic rifting triggers uplift of the Gamburtsev Mountains
nature (www.nature.com), November 17, 2011
Gamburtsev 'ghost mountains mystery solved'
BBC (www.bbc.co.uk), November 17, 2011
November 2011
Sander Geophysics again returns to Antarctica with NASA's IceBridge project collecting data with its AIRGrav system. AIRGrav is one among a number of instruments that IceBridge utilizes in its airborne campaigns to measure the thickness of ice in Earth's polar regions. The use of the term "bridge" refers to the gathering of data using aircraft to fill the gap between NASA's now defunct Icesat laser altimeter spacecraft and the future Icesat-2 mission due to come into operation later this decade. Recently, NASA's Operation IceBridge flew a mission to gather more detailed data regarding the process of an iceberg calving, after satellite imagery showed a growing crack on the Pine Island Glacier in Antarctica in early October. The crack is almost 30 km (20 miles) across and 60 m (200 ft) deep and it is growing daily. Pine Island Glacier is one of the largest and fastest-moving tongues of ice, and NASA researchers' expect the eventual iceberg will be approximately 880 sq km in areal extent.
A Crack in the Pine Island Glacier Ice Shelf
NASA Blogs (blogs.nasa.gov), October 26, 2011
Watching the Birth of an Iceberg
NASA (www.nasa.gov), October 2011
Huge Iceberg Forms in Antarctica
BBC (www.bbc.co.uk), November 2, 2011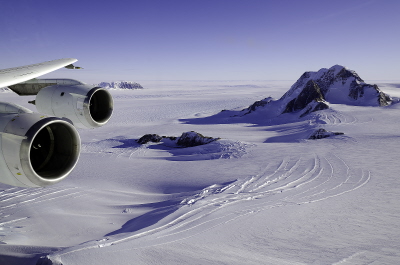 March 2011
Scientists working with data from Antarctica's Gamburtsev Province Project (AGAP) have discovered that the liquid water locked underneath the continent´s coat of ice is thawing and refreezing to the bottom. Ice sheets build up from the top but scientists have known little about the processes underneath. In some places accumulation has been shown to be greater at the bottom than the top. These discoveries are part of understanding how the ice forms and deforms which is critical to comprehend its response to climate change. Sander Geophysics participated in AGAP in 2008-2009. This International Polar Year project involved flying at low-altitude in a grid pattern over the Antarctic ice sheet to determine what lay beneath and determine how the mountain peaks, ice sheet, and subglacial lakes interact with one another.
Some Antarctic Ice is Forming from Bottom
Columbia University (www.earth.columbia.edu), March 3, 2011
Antarctic ice sheet built ´bottom-up´
BBC News (www.bbc.co.uk), March 3, 2011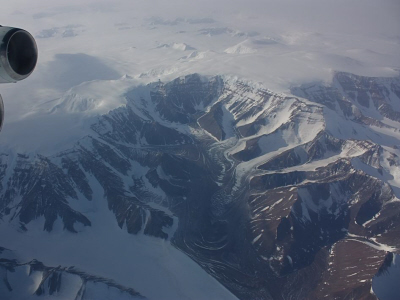 January 2011
Scientists working on NASA´s Operation IceBridge data from 2009 have made a new discovery. A deepwater channel under the Pine Island Glacier was found through the mapping of water depth and seafloor topography. While laser and radar instruments can measure the elevation of the ice surface and the bedrock below they cannot penetrate the water. Sander Geophysics' AIRGrav allows ice, water and rock to be identified due to their difference in density. The thickness of these materials can then be estimated. This discovery may help to explain the nature of the recent changes in the glacier and thus be able to better predict the changes to come.
Channel Beneath Pine Island Glacier
nasa.gov, January 19, 2011
December 2010
With the completion of NASA´s IceBridge campaign for another year, mission scientists are eager to compile all the data gathered over the 115 hours of survey flying. Sander Geophysics´ is in the midst of processing all the AIRGrav data collected. The IceBridge research team has found definite changes since the last mission flown in October and November 2009. The initial data is showing bottom crevasses that could be hundreds of meters tall, starting at the bottom of the ice shelves. Continuous measurements over the years to come will reveal the responses of glaciers and ice sheets to the changing climate.
NASA´s IceBridge Ends Antarctic Mission with Final Flight
ourAmazingplanet.com, December 1, 2010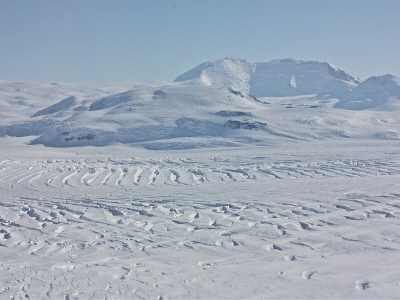 November 2010
NASA´s IceBridge campaign which employs Sander Geophysics´ AIRGrav have completed another successful year collecting data over Antarctica. Adverse weather hindered progress this season although NASA was able to fly 10 successful missions making use of 84% of the allocated science flight hours. Every ICESat orbit ever completed has been flown with the DC-8 around the South Pole. The next mission will be over the Arctic Ocean with NASA´s P-3B aircraft in March 2011.
Operation IceBridge Completes Another Successful Antarctic Campaign
nasa.gov, November 22, 2010
October 2010
Sander Geophysics´ AIRGrav returns to Antarctica. NASA´s Operation IceBridge mission is set to begin its second year with scientists returning to the Southern Hemisphere this week, to continue airborne surveys over Antarctica. The mission involves monitoring the region´s changing sea ice, ice sheets and glaciers. The flights will again be made from Punta Arenas, Chile, on NASA´s DC-8, a 157-foot airborne laboratory equipped with a suite of seven instruments, including an AIRGrav system to record the gravity field. According to NASA, the focus of the project is to re-survey areas that are undergoing rapid change and fly some new lines in other areas of interest.
NASA Airborne Science Campaign Begins Antarctic Sequel
nasa.gov, October 22, 2010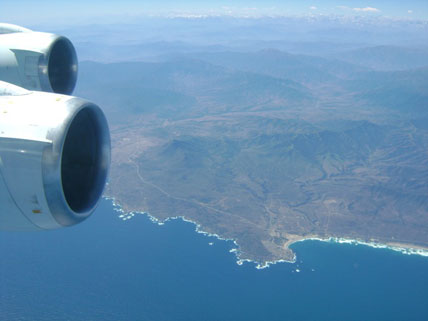 April 2010
Sander Geophysics is very pleased to have been selected once again to operate the AIRGrav system for NASA's Operation IceBridge (http://www.espo.nasa.gov/oib/). Designed to monitor ice at the Earth's poles, IceBridge has moved to the northern hemisphere this spring for flights over Greenland and the Arctic Ocean. SGL's AIRGrav is working alongside laser scanner, ice and snow radar science teams. The flights this spring will be split between the NASA DC-8 from the Dryden Airborne Operations Facility and the P-3 from the Wallops Flight Facility. Missions are being flown from Thule and Kangerlussuaq in Greenland in March, April, and May.
NASA (www.nasa.gov), April 22, 2010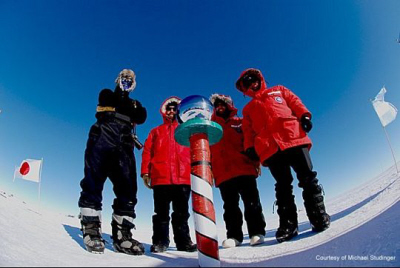 December 2009
Rugged mountains buried beneath the ice of Antarctica have been imaged with the help of Sander Geophysics' AIRGrav airborne gravity system. During December 2008 and January 2009 over 50,000 km of airborne gravity data were collected by one of SGL's AIRGrav systems mounted in a Twin Otter aircraft as part of Antarctica's Gamburtsev Province Project (AGAP). Dr Michael Studinger from the Lamont-Doherty Earth Observatory (LDEO) of Columbia University, New York, presented preliminary results from the AGAP survey at the 2009 American Geophysical Union (AGU) meeting in San Francisco.
Data to expose 'ghost mountains'
BBC News, December 18, 2009
December 2009
The 2009 ICE Bridge project over Antarctica has wrapped up successfully. Designed to provide vital information about ice at the poles, ICE Bridge is a NASA project to bridge the gap between the retirement of ICESat I (2009) and the launch of ICESat II (expected in 2014-15). The project used a specially modified NASA DC-8 mounted with various pieces of equipment from multiple agencies, including Sander Geophysics' AIRGrav system. This season, 21 missions were flown over Antarctica from a base in southern Chile, totalling 155,000 km and 227 flight hours. This exceeded the original plan of a 17 flight mission, with some of those additional flights designed specifically to take advantage of the high resolution and accuracy of Sander Geophysics' AIRGrav system. Highlights include the acquisition of detailed gravity maps covering the floating ice shelves associated with major West Antarctic outlet glaciers, which is expected to contribute to a better understanding of ice sheet mass balance and its relation to the changes in the polar climate.
Please see the following page for links to additional information on this project.
October 2009
Sander Geophysics is proud to be participating in NASA's ICE Bridge project in Antarctica. Having previously supplied an AIRGrav airborne gravimeter for last year's highly successful AGAP survey in Antarctica, SGL was the obvious choice to supply a reliable, high resolution, gravity system in support of NASA's current project. The ICE Bridge project is designed to provide vital information about the ice sheet at the poles, and will bridge the gap between the retirement of ICESat I (expected in 2009) and the launch of ICESat II (expected in 2014-15). During this period, NASA plans to acquire data using a DC-8 aircraft mounted with various pieces of equipment from multiple agencies, including Sander Geophysics' AIRGrav system, which is being provided through an agreement with Lamont-Doherty Earth Observatory of Columbia University. Missions will be flown over Antarctica from a base in southern Chile starting in October, 2009.
Please see the following page for links to additional information on this project.
July 2009
Sander Geophysics' AIRGrav system was chosen for Antarctica's Gamburtsev Province Project over competing airborne gravimeters due to AIRGrav's superior performance. Before being chosen for the demanding Antarctic survey test flights were flown over the Rocky Mountains, west of Calgary, and from Ellesmere Island in Nunavut to demonstrate the system's capabilities at high latitudes over the North Pole, and over Greenland's ice sheet. The system then headed for Antarctica. The AIRGrav system accurately gathers gravity data while compensating for aircraft motion due to turbulence, and aircraft vibrations, allowing for the removal of these effects from the final data during processing, using very accurate GPS.
Sander Geophysics Explores the Antarctic
Newsletter for the Canadian Antarctic Research Network, Vol 26, November 2008 (pdf - 369 KB)
March 2009
Sander Geophysics (SGL) successfully completed its participation in the data acquisition phase of Antarctica's Gamburtsev Province Project (AGAP) which is part of the International Polar Year. During December and January, over 50,000 km of airborne gravity data were collected by the AIRGrav system mounted in the survey Twin Otter aircraft. The gravity map revealed the peaks and valleys of the Gamburtsev mountains hidden beneath the featureless surface of the ice sheet. Data is currently in Ottawa being analyzed.
| | |
| --- | --- |
| | Antarctica's hidden mountains - Mapping the bottom of the world |
| | CBC Interview - Stefan Elieff (project geophysicist) talks about harnessing gravity to probe the ice-bound Antarctic mountains |
CBCnews.ca, March 2009
February 2009
Sander Geophysics completes successful Antarctic AIRGrav survey as part of Antarctica's Gamburtsev Province Project (AGAP). The airborne gravity survey exposed the area's markedly rugged terrain with sharp mountain peaks and well defined valleys under ice more than four kilometres thick.
U.S.-led, International Research Team Confirms Alps-like Mountain Range Exists under East Antarctic Ice Sheet
National Science Foundation, Press Release 09-029
November 2008
Scientists from Sander Geophysics are taking one of the company's AIRGrav systems to Antarctica, as part of International Polar Year, to unveil the mystery of the massive Gamburtsev mountain range which is buried under ice four kilometres thick. Sander Geophysics' AIRGrav instrument will reveal the distribution of materials with varied densities. The airborne survey flown in a grid pattern will take about a month.
Ottawa firm harnesses gravity to probe ice-bound Antarctic mountains
CBCnews.ca, Thursday, November 13, 2008
November 2008
Sander Geophysics has earned the privilege of participating in the Antarctica's Gamburtsev Province Project (AGAP) which is part of the fourth International Polar Year (IPY) taking place during the 2008-2009 season. The AGAP team selected AIRGrav over other gravimeters for this demanding Antarctic survey.
Sander Geophysics Explores the Antarctic
Sander Geophysics, November 12, 2008